OLEV Grants of £500 for Car Charging  Coventry Birmingham
CLAIM YOUR OLEV GRANT THROUGH MR ELECTRIC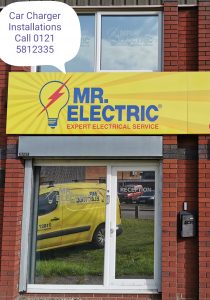 Electrician in Birmingham and Coventry Mr Electric a company you can trust to handle your OLEV grants only employ fully qualified NICEIC electricians who are experts regarding car charger installation
Mr Electric a Coventry based electrical company has been endorsed as a Government-approved installer of electric car charging points and now assist and help customers apply for the OLEV grant towards the cost of installation. Mr Electric Coventry can arrange OLEV Grants of £500 towards your installation
Mr Electric Coventry  state : The Electric Vehicle Homecharge Scheme provides up to 75% of the installation cost (up to a total of £500) for charging points at domestic properties, while the Workplace Charging Scheme offers up to £500 per socket (up to a maximum of 20 sockets) for commercial properties.
The Government grants are designed to support the wider use of electric and hybrid vehicles, but work has to be carried out by approved installers, using products from approved suppliers.
Mr Electric Birmingham Coventry achieved accreditation after undertaking OLEV's robust training and testing process and is now able to install charging points, provided by many registered suppliers
CONTACT MR ELECTRIC 011 51475713
"To claim a grant, you have to use an OLEV-approved installer and we are one of the first in the Midlands to achieve that accreditation. We can apply for the grants on behalf of customers for a simple and cost-effective way of installing charging points at homes and businesses and we would encourage people to take advantage of the funding while it's available.
The Office for Low Emission Vehicles is a team working across Government to support the early market for ultra-low emission vehicles (ULEV) and has over £900million to position the UK at the global forefront of ULEV development, manufacture and use.
The Government is driving forward its green transport revolution and this has been further boosted by the recent introduction of the new Automated and Electric Vehicles Bill in Parliament.
A number of measures have been proposed as part of the bill in a £1.2bn investment plan for the industry.
This includes improved access and availability of charge points for electric cars, including points at all UK motorway services and large petrol retailers and new powers for Government to make it compulsory for charge points to be installed.
Introducing the bill, Transport Minister John Hayes, said: "This bill will aid the construction of greater infrastructure to support the growing demand for automated and electric vehicles as we embrace the technology and move into the future.
"Drivers of electric vehicles will be able to easily locate and charge at any charge point, using information from sat navs or mobile apps, regardless of the vehicle make or model – making running an electric vehicle even easier. All charge points will have to be 'smart' meaning they can interact with the grid in order to manage demand for electricity across the country."
For more information visit Mr Electric Coventry
You may also be interested in…