Would You Die for DIY ?
Electrician in Birmingham warning regarding DIY
Sometimes, electrical DIY seems like the quickest and simplest option to updating your electrics. Maybe a socket needs to be rewired, or your kitchen spotlight is on the fritz and a new bulb just isn't working. If it's a quick fix, what's the harm in a little bit of DIY? Well, electrical DIY can actually be extremely dangerous.
A customer of Mr. Electric Birmingham North knows this all too well as he was very close to finding out just how dangerous electrical DIY could be. Electrician Danny recently attended a job where the electrics kept tripping and the customer wasn't sure why. After investigating, Danny found that there was a wire trailed over a non-fire rated spotlight. The wire came from a newly fitted extractor fan, an appliance that the customer fitted himself as a spot of DIY.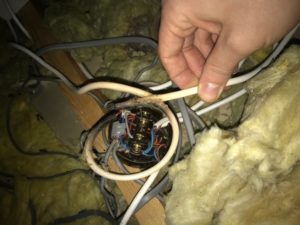 Dominic Longley, Mr. Electric Birmingham North Manager, said: "You can see the obvious heat damage on the cable and how lucky he was that he had an RCD protected board which picked up the fault and tripped. If he had an old rewireable fuse board there's a good chance it would have set fire to the loft before the fuse wire had blown."
The customer was extremely lucky to have an RCD protected fuse board, as an older one may have let the wire continue to burn and eventually catch fire to the loft insulation surrounding it. Although the extractor fan itself wasn't a hazard, if the task was undertaken by a qualified professional there would have been no hazard at all.
Jeff Longley, Mr. Electric Birmingham North Director, said: "Although the customer was capable of fitting his fan, not being an electrician he had no idea his lights were not fire rated and the problems this would cause."
All too often our electricians attend jobs to fix a DIY job, and although a lot of people believe that saving some pennies and learning a new skill is a great reason to do some electrical DIY, if it is not done correctly it can be extremely dangerous.
Leading charity Electrical Safety First began a campaign in 2015 all about staying safe with your electrics and to call a registered electrician. 'Don't Die for DIY' focused on all the dangers that came with electrical DIY and had some surprising findings. They found that DIY attempts were the cause of nearly half of severe electric shocks in the UK. The main reasons for these shocks were due to people cutting through power leads, drilling into wiring and repairing electrical items while they're still switched on.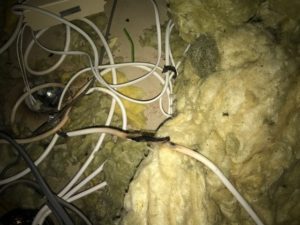 They also found that one-third of registered electricians had been involved in fixing electrical DIY accidents that resulted in fires, serious electric shock or significant repair costs. Fortunately, the customer that Danny helped managed to escape any major repairs, but it can be so easy to cross that line with electrical DIY.
Electrical Safety First warns people not to follow tips on electrical DIY from Google or YouTube – you have no idea if they are a registered electrician and if they actually know what they are doing. A registered electrician is always the safest way to keep yourself, your family and your home from harm. And remember, just like Danny's customer, although your electrical DIY may seem safe at first, you never know what hazard could be lying in wait.
To find out more safety tips on electrical DIY, visit Electrical Safety First to discover to do's and don'ts of electrical DIY. To get some help with your electrics, don't put yourself at risk – contact Mr. Electric Birmingham North!
Mr Electrician Birmingham, Unit 9 Ariane, Lichfield Road Ind Est, Tamworth, Staffs, B79 7XF
See other services from electrician in Birmingham         Mr Electric
You may also be interested in…