Covering West Yorkshire
24/7, 365 Days a Year
No Callout Charges
Services
Domestic
Our fully-trained electricians can provide solutions to all of your home electrical needs, whether it's lighting upgrades, rewiring or emergency repairs.
Learn More
Services
Commercial
We work closely with businesses in West Yorkshire that require a reliable commercial electrician for emergency callouts and other electrical services, including testing and maintenance.
Learn More
Why Businesses Choose Mr. Electric West Yorkshire
We know what it's like to experience an interruption to your electrical service. That's why, whether you're a homeowner or business owner, Mr. Electric can provide you with 24/7 support, with no unexpected fees or emergency callout charges. But that doesn't mean we skimp on understanding your specific needs – all of our electricians are trained to undertake specialist electrical tasks and give advice tailored to your requirements.
Learn More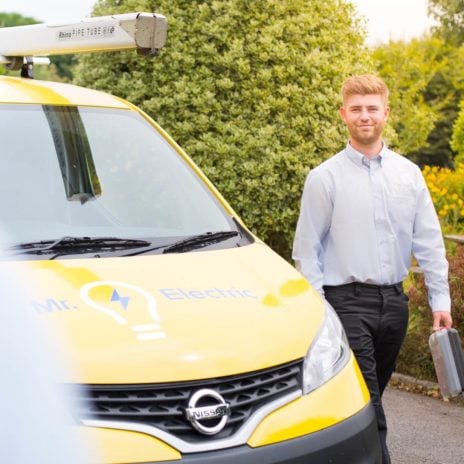 Fixed Pricing
No Callout Charges
Free Quotes
Covering West Yorkshire
Fast Response
Highly Trained
Meet Your Local Mr. Electric Team
When it comes to delivering honest and professional services, you've come to the right place. Our team in West Yorkshire service customers in Pontefract, Wakefield, Dewsbury, Brighthouse and beyond, and are always willing to go the extra mile.
Call 01924 588735 today.
Meet the Team
What our customers say
Grant did a great job of fitting our ceiling fans. Would definitely use again and/or recommend to friends and family.
Stacie Wright
Wrenthorpe, wakefield
From start to finish I cannot thank Grant enough. He definitely went way beyond the call of duty when refitting a 70 metre armoured cable down a pre dug 20 inch trench. Grants level of professionalism and level of genuine customer services was simply brilliant. Not only did Grant make my life much easier, he purchased all the material from conception through to job completion he made the whole stressful situation better. His style and approach was one of calmness and possessed a very focused and driven attitude. I would not have any hesitation in recommending Mr Grant Bolger for any electrical work no matter what the size of the job. It is a true breath of fresh air to see a highly qualified workman with true honesty, integrity and overall a very nice human being. Thank you once again Mr. Electric!
Mr Chodak Hunter
Ackworth, Ackworth
Reliable at reasonable rates. Professional workman (Grant).
Philip Bailey
Pontefract, Pontefract
Good stuff.
Mr Boocock
Town, Huddersfield
Your engineer was extremely efficient, pleasant and knowledgeable. Excellent service.
Mrs Brenda Brown
Sheffield, Sheffield
The Latest from West Yorkshire
Stay up to date on all of the latest news and expert electrical tips from West Yorkshire by following the Mr. Electric blog.