Covering West Yorkshire
24/7, 365 Days a Year
No Callout Charges
Services
Domestic
Our fully-trained electricians can provide solutions to all of your home electrical needs, whether it's lighting upgrades, rewiring or emergency repairs.
Learn More
Services
Commercial
We work closely with businesses in West Yorkshire that require a reliable commercial electrician for emergency callouts and other electrical services, including testing and maintenance.
Learn More
Why Businesses Choose Mr. Electric West Yorkshire
We know what it's like to experience an interruption to your electrical service. That's why, whether you're a homeowner or business owner, Mr. Electric can provide you with 24/7 support, with no unexpected fees or emergency callout charges. But that doesn't mean we skimp on understanding your specific needs – all of our electricians are trained to undertake specialist electrical tasks and give advice tailored to your requirements.
Learn More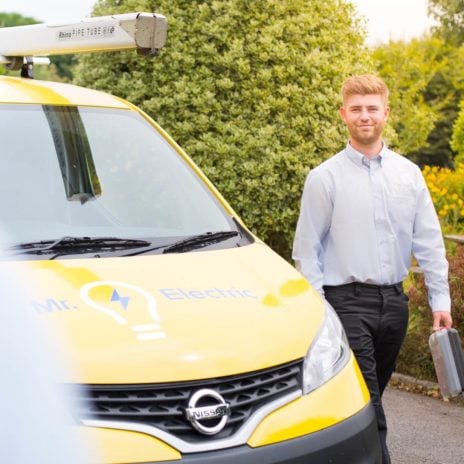 Fixed Pricing
No Callout Charges
Free Quotes
Covering West Yorkshire
Fast Response
Highly Trained
Meet Your Local Mr. Electric Team
When it comes to delivering honest and professional services, you've come to the right place. Our team in West Yorkshire service customers in Pontefract, Wakefield, Dewsbury, Brighthouse and beyond, and are always willing to go the extra mile.
Call 01924 588735 today.
Meet the Team
What our customers say
Easy to deal with and were able to get to the job at short notice which was a massive help.  Will certainly be using them again.
Andy Trudgill
Brighouse
Excellent service.  Arrived promptly.  Friendly and professional.
Mark Garrett
Hillsborough, Sheffield
I have used a Mr. Electric electrician on 3 occasions preparing a flat for rent . Grant provided a very professional and skilled service , was prompt , and did a first class job for a first class price and as a landlord I wouldn't hesitate to recommend highly Mr. Electric.
Keith Atack
Centre, Pontefract
The chap from Mr. Electric came within one week, was the best quote, observed social distancing, answered all my questions and I am very satisfied with the result.  My car charger works perfectly!  He even worked in the rain - the bits he could do safely of course!
Dr Heshan Panditaratne
Outwood, Wakefield
Excellent service at a great price would recommend him to my friends many thanks.
Stuart Knowles
Hemsworth
Very happy with the work he did.
Ian Tinney
Barnsley
Grant provided technical information and assurance to the client in a professional and effective manner.  He co-ordinated his works throughout the project and completed in a timely manner.  The service was 1st Class and we will continue to use their services.
Duan Kapp
Crigglestone
Great communication and a trusted and reliable electrician.
Sean Gaffney
Pontefract
He is a top chap with a great understanding of what customers need.  My father couldn't fault the service he gave 200% well done.
Philip Stoneley
Pontefract
The Latest from West Yorkshire
Stay up to date on all of the latest news and expert electrical tips from West Yorkshire by following the Mr. Electric blog.
Supporting Our Communities
As we continue to work together to fight the Covid-19 outbreak, we would like to reassure our customers that we are taking all the necessary precautions to ensure the safety and well-being of our customers, staff and business owners.