Covering West Yorkshire
24/7, 365 Days a Year
No Callout Charges
Services
Domestic
Our fully-trained electricians can provide solutions to all of your home electrical needs, whether it's lighting upgrades, rewiring or emergency repairs.
Learn More
Services
Commercial
We work closely with businesses in West Yorkshire that require a reliable commercial electrician for emergency callouts and other electrical services, including testing and maintenance.
Learn More
Why Businesses Choose Mr. Electric West Yorkshire
We know what it's like to experience an interruption to your electrical service. That's why, whether you're a homeowner or business owner, Mr. Electric can provide you with 24/7 support, with no unexpected fees or emergency callout charges. But that doesn't mean we skimp on understanding your specific needs – all of our electricians are trained to undertake specialist electrical tasks and give advice tailored to your requirements.
Learn More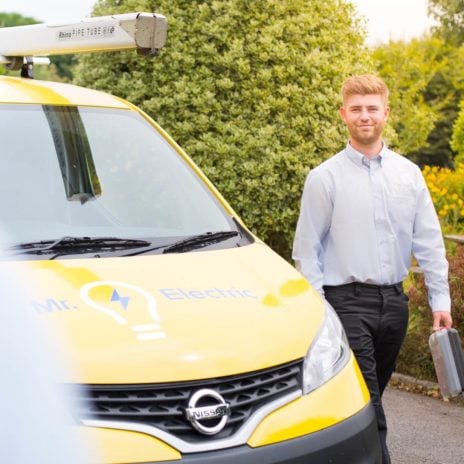 Fixed Pricing
No Callout Charges
Free Quotes
Covering West Yorkshire
Fast Response
Highly Trained
Meet Your Local Mr. Electric Team
When it comes to delivering honest and professional services, you've come to the right place. Our team in West Yorkshire service customers in Pontefract, Wakefield, Dewsbury, Brighthouse and beyond, and are always willing to go the extra mile.
Call 01924 588735 today.
Meet the Team
What our customers say
Mr. Electric (Craig) arrived on time, did the job carefully, checked everything and was very pleasant helpful.  Excellent service, reasonably priced.
William Smith
Wakefield
We were very pleased at the speed of response and the clear expertises shown.  You were helpful and caring and gave us a helpful follow up call.
Paul Bedford
Town Centre, Barnsley
Fast friendly very efficient.  Grant is a very pleasant chap and does a good job.
Mrs S Acheson
Brighouse
Pleasant and very professional.
Steve Scott
Mapplewell, Barnsley
Extremely pleased with the quick and efficient service.  It was very good of Grant to come at short notice and fix a problem with my electrical wiring.  Have already spoken to him for future work.
Paul Emms
Doncaster
Grant and Corey where very polite and thorough.
Diane
Outwood
Came out on a Sunday.  Great friendly service when I needed it.
Simon Gascoigne
Outwood, Wakefield
Excellent service solved the problem working perfectly now.
Philip Still
Lupset park, Wakefield
The work and service that Corey carried out was great definitely will use them again if needed.
Kevin Wilson
Barnsley
The Latest from West Yorkshire
Stay up to date on all of the latest news and expert electrical tips from West Yorkshire by following the Mr. Electric blog.
Supporting Our Communities
As we continue to work together to fight the Covid-19 outbreak, we would like to reassure our customers that we are taking all the necessary precautions to ensure the safety and well-being of our customers, staff and business owners.