The UK's First Choice in Commercial Electricals
At Mr. Electric, we offer a full commercial electrician service to businesses across the UK. Whether you're a start-up or FTSE 100 company, we can provide you with the information and resources you need to make an educated decision on which electrical solutions are best for your budget.
Our experienced electricians are highly trained in all aspects of electrical service, from office lighting and security systems to PAT testing and emergency repair. Prices are fixed for all of our services, with work carried out at a time that suits you, with minimal disruption to your business.
We understand that a disrupted power supply or other electrical fault can be costly for any business. We're available 24/7 for emergency callouts and have electricians in all parts of the UK, meaning we can typically have somebody on site within 45 minutes of a call.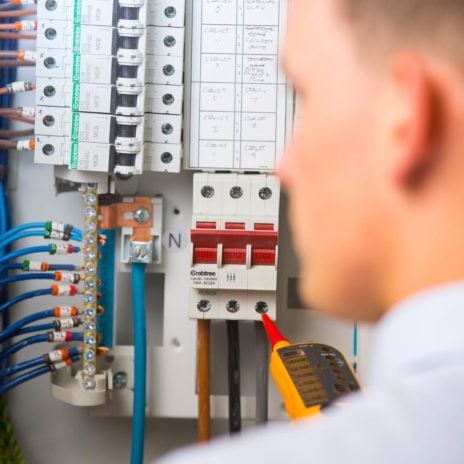 Electrical Contractors You Can Trust
With over 20 years' experience behind us, we know what businesses expect from a commercial electrician service. We're the electrical contractors of choice for leading brands in the energy, insurance and automotive sectors, and we also provide expert electrical support to thousands of smaller businesses throughout the UK.
A Mr. Electric key account will give you the benefit of centralised billing, agreed response times and a unique pricing schedule. Where necessary, we can also build heating, refrigeration and air-conditioning services into a package that's tailored to the unique needs of your company. Let us show you how we can improve your business, protect your employees and customers, and help you save on energy costs.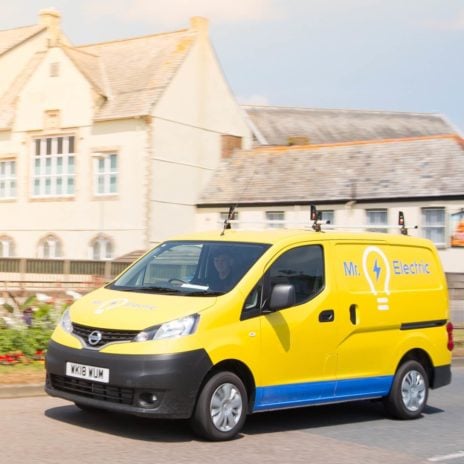 Commercial Services
From EICR testing and routine maintenance to full electrical installations and lighting upgrades, Mr. Electric can support businesses with any electrical need. More information is available through our individual service pages.
An excellent service from arranging times to suit to assisting with the most Practical of solutions
Rankin Colin
Town centre, Electrician Tamworth Reviews
The service provided by Grant was excellent. The fault diagnosis was quick and the resolution was carried out in a professional manner. I would recommend Grant (Mr Electric) to friends, family and other landlords.
Neil Traxler
Woolley Grange, Wakefield
Good, reliable service.
Stephen Flicker
Sandal, Wakefield
I had an issue with no electric to power sockets and my husband has a medical condition requiring electric for breathing equipment I rang Grant from Mr. Electric and himself and a colleague were at my home within the hour and quickly solved the problem and got our power back, they were friendly, knowledgeable, excellently priced and very efficient I would highly recommend their services.
Mrs Anna Mitchell
Barnsley
Charge point installation was straightforward and, on the appointed day, the fitting was completed quickly and tidily. A repeat visit was needed due to a fault with the charger (no issue with installation). Mr Electric were pro-active, arranged an early appointment and minimised the inconvenience.
Stuart Robottom-Scott
Solihull, Birmingham
Very good
Tony Boles
solihull, Birmingham
Had MR Electric to move a bedroom light switch, install ceiling spot lights to replace my old tried light fitting, they also installed new sockets ahead of new fitted Wardrobes. Excellent prompt service at an excellent price. Well done guys would recommend you to anyone
Rankin Colin
Kidderminster , Dudley
Came out to find out why we had no electric in sockets, unfortunately it was our fault due to doing DIY but after nearly £300 we have had sockets bypassed externally and the original socket that was accidentally shorted still doesn't work !! Not happy, had to come back 3 times and our original problem still stands ... don't use this company
Patricia Daly
We have a long term project, Richard and Steve have been very good helping out.
Jamie Boyd
In the sticks, Bury St. Edmunds
Services
Domestic
Mr. Electric's residential electricians can help with any home electrical need, from rewiring to fuse box upgrades, and are available 24/7 for emergency callouts.
Learn More
Services
Why Mr. Electric?
We work with thousands of businesses and households across the UK who trust us to deliver a reliable electrician service. But what makes us better than other electricians?
Learn More
Ready to Talk Wherever, Whenever
Find your local Mr. Electric®.
Or call 0800 7311 606 today
to speak to an expert about your electrical needs