The UK's First Choice in Commercial Electricals
At Mr. Electric, we offer a full commercial electrician service to businesses across the UK. Whether you're a start-up or FTSE 100 company, we can provide you with the information and resources you need to make an educated decision on which electrical solutions are best for your budget.
Our experienced electricians are highly trained in all aspects of electrical service, from office lighting and security systems to PAT testing and emergency repair. Prices are fixed for all of our services, with work carried out at a time that suits you, with minimal disruption to your business.
We understand that a disrupted power supply or other electrical fault can be costly for any business. We're available 24/7 for emergency callouts and have electricians in all parts of the UK, meaning we can typically have somebody on site within 45 minutes of a call.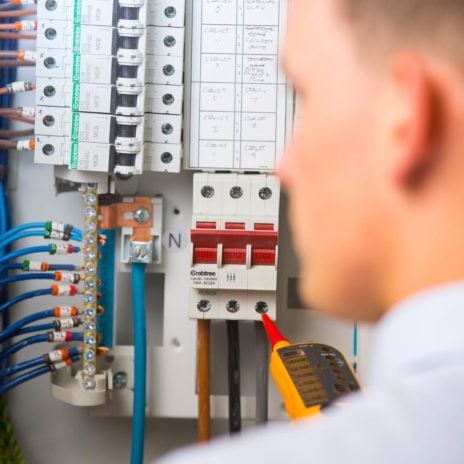 Electrical Contractors You Can Trust
With over 20 years' experience behind us, we know what businesses expect from a commercial electrician service. We're the electrical contractors of choice for leading brands in the energy, insurance and automotive sectors, and we also provide expert electrical support to thousands of smaller businesses throughout the UK.
A Mr. Electric key account will give you the benefit of centralised billing, agreed response times and a unique pricing schedule. Where necessary, we can also build heating, refrigeration and air-conditioning services into a package that's tailored to the unique needs of your company. Let us show you how we can improve your business, protect your employees and customers, and help you save on energy costs.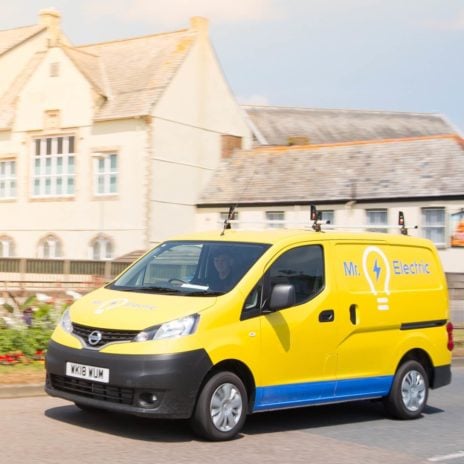 Commercial Services
From EICR testing and routine maintenance to full electrical installations and lighting upgrades, Mr. Electric can support businesses with any electrical need. More information is available through our individual service pages.
Prompt and efficient service.  Very clear explanation of all electrical issues.
Mr Ben Church
Porthtowan
Have used Mr. Electric before for installing spotlights and contacted them again to install my Nest doorbell and thermostat.  Both times they have been fantastic and I have to say that Steven is an absolute star!  He works very neatly and he treats your home as if its his own.  Everything looks clean, tidy and very well done.  Will be back for more!
Marc Sussenbach
Beck Row
Very great company and super happy with the prices quoted! Steven is an absolute star! He is very knowledgeable and has solutions for almost everything. His work is 10/10 and it's just as if he's doing work in his own home. Everything is left tidy, very well done and he is happy to make things happen for you! I have had a Nest doorbell and Nest thermostat installed by Steven from Mr Electric. Prior to the installation I've been in touch with 'Nest Pro's' as suggested by the Nest products and wasn't happy with their responses. So many of them are making the installation sound so difficult just so they can charge you a large amount. So I contacted Mr Electric and they have done the job at a much better price without any issues! The products are working perfectly and there's definitely no need for a ''Nest Pro'' to do it Can't fault this company and will definitely be back for more.
Marc
Sean identified major issues in my home after some very poor work by a different electrician left me without power and dangerous circuitry.  He worked very hard to rectify extensive faults and was clearly very competent. I highly recommend this man.
Ivor Walker
Whitchurch, Cardiff
Don't have anything bad to say about Steve, he was polite and clear about what to expect.  Quality workmanship and even put up with my children bothering him.  Would recommend.
Ben Emberson
Pool
Very professional job carried out by Wayne.  Many thanks.
Dorothy Ann Perrins
Plympton, Plymouth
Work completed efficiently and quickly.
Mrs W Parkyn
In Town, Camborne
Very good with humour and understanding.
Jon Lincoln-Gordon
Tywarnhayle, Perranporth
VERY GOOD
Mrs Sandra Badman
Castle-an-Dinas
Services
Domestic
Mr. Electric's residential electricians can help with any home electrical need, from rewiring to fuse box upgrades, and are available 24/7 for emergency callouts.
Learn More
Services
Why Mr. Electric?
We work with thousands of businesses and households across the UK who trust us to deliver a reliable electrician service. But what makes us better than other electricians?
Learn More
Ready to Talk Wherever, Whenever
Find your local Mr. Electric®.
Or call 0800 7311 606 today
to speak to an expert about your electrical needs