The UK's First Choice in Commercial Electricals
At Mr. Electric, we offer a full commercial electrician service to businesses across the UK. Whether you're a start-up or FTSE 100 company, we can provide you with the information and resources you need to make an educated decision on which electrical solutions are best for your budget.
Our experienced electricians are highly trained in all aspects of electrical service, from office lighting and security systems to PAT testing and emergency repair. Prices are fixed for all of our services, with work carried out at a time that suits you, with minimal disruption to your business.
We understand that a disrupted power supply or other electrical fault can be costly for any business. We're available 24/7 for emergency callouts and have electricians in all parts of the UK, meaning we can typically have somebody on site within 45 minutes of a call.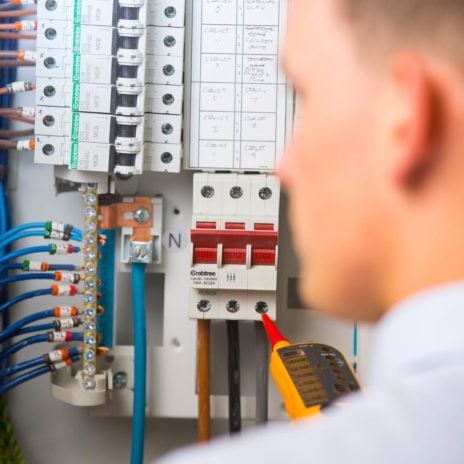 Electrical Contractors You Can Trust
With over 20 years' experience behind us, we know what businesses expect from a commercial electrician service. We're the electrical contractors of choice for leading brands in the energy, insurance and automotive sectors, and we also provide expert electrical support to thousands of smaller businesses throughout the UK.
A Mr. Electric key account will give you the benefit of centralised billing, agreed response times and a unique pricing schedule. Where necessary, we can also build heating, refrigeration and air-conditioning services into a package that's tailored to the unique needs of your company. Let us show you how we can improve your business, protect your employees and customers, and help you save on energy costs.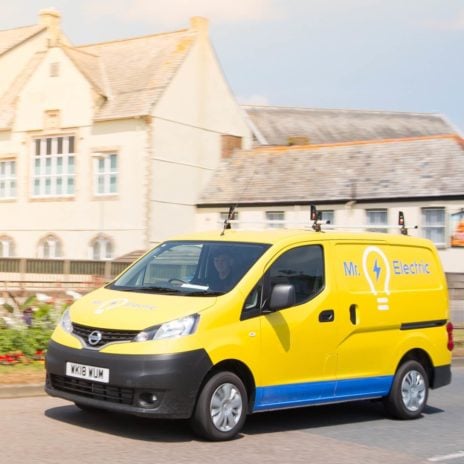 Commercial Services
From EICR testing and routine maintenance to full electrical installations and lighting upgrades, Mr. Electric can support businesses with any electrical need. More information is available through our individual service pages.
Being both old, and my wife very disabled, we were not looking forward to the disruption in our home, but your kind and considerate men made it easy for us and we thank them for that.
Mr R Dennis
St Agnes
This work came about because of a chance discussion with your electrical engineer who was called out to mend a faulty light switch. I was quite satisfied with the extra work carried out, thank you.
Mrs S Heselltine
Plymouth
Very impressed with the work as it was not as simple as had been anticipated, but they stayed until it was finished.
Mr & Mrs Brooking
Redruth
We love the efficiency & speed of attendance, you guys are great.
Customer
Camborne
Thank you for the service given yesterday by a very pleasant young man who is an asset to your company and I thought it was worth a mention.
Customer
Perranporth, St Agnes
It was lovely to speak to friendly receptionists.
Customer
Plymstock
The staff were wonderful, lovely men, who were patient, professional and even cleaned up after theirselves. They worked from 9am until 7pm without stopping.
Customer
Wadebridge, Padstow
Dwyer Group
All I can say is wow what a service! We lost all power to out sockets on the Friday and had a big night of entertaining that weekend. We called a local electrician and they didn't seem to be interested in taking on work or to even help. I then found mr Electric in Wolverhampton and they come out in the Friday evening. Got the power working in no time. I thought this was going to cost a lot for an evening call out but not as bad as I thought. Fully recommend!!!
Graham Jordan
Done a great job in my house, finished installing lights and dimmers under half an hour. I would recommend if you want great service.
Paul Kumar
Highly recommend Mr Electric Wolverhampton. Professional service with a quick response. Re-wired the lights in my salon to a very high standard. Thank you will definitely use you again. X
Joanna Dixon
Really pleased with work carried out by Mr. Electric. The work we had done was done quickly and efficiently with very little mess which the engineer cleaned up before he went. Would definitely recommend to others and I will be using again for any work I need doing in the future. Very good customer service :-)
Rebecca Cadman
I had a great service from Darren. He attended at very short notice and completed the required work in a very reasonable time. Very clean and tidy too. Thank you
Harvi Sidhu
Excellent service. Turned up on time. Checked out situation, and needed to order parts. Phoned as soon as parts were ready. Again turned up at agreed time. did job efficiently then left. No messing about. Will use him again.
Martin Oliver
Excellent service, requested a quote and was able to accommodate my proposed date. Worked to an extremely high professional standard and I would have no hesitation of recommending him for future work.
Matthew Howes
Very pleased with work done. Very professional. Completed work in next to no timei.
Joyce Douglas
Hardworking, good price, professional, friendly and good at his work. I was extremely pleased and would highly recommend.
Heather Sandford
Fast response from Darren willing to help you out as much as possible at short notice. Great workmanship, excellent at his job and works at a very quick pace. No time wasted! Thanks again Darren will definately be passing on your contact to my friends and family.
Alison Snow
Mr Electric quoted me for a garage conversion into a cinema room. Not only was he efficient but also very quick. He has done a fantastic job and couldn't be more helpful. Nothing was too much trouble and he was extremely competitive on price. Regarding the quality of his work I have been very impressed. I highly recommend. Indeed I have recommended him to friends for work already.
Simon Johnson
Brilliant service, Excellent quality and extremely professional. Highly recommended and will use again.
Richard Sinclair
Very professional service, excellent competitive price and very polite, I would definitely recommend Mr Electric for any electrical work.
e 26
Absolute Star! Efficient , good timekeeper, extremely tidy . Have absolutely no hesitation in recommending and will have him back as and when I need more electric work done!
Stephen Nelson
Darren quoted for a complete house rewire and went through all my detailed plans and carried out the work to perfection and on time. He was very friendly and explained everything he was doing step by step when i asked. I've already found future work for him. Nice to know i have a tradesman i can trust - nothing but positive praise from me.
kanecaptain
Connected my new oven in. And arrived on time Even wore shoe covers
R Cb
Turned up on time, explained problem to me - fixed problem with no mess - very polite and installed complete faith in workmen's competence.
Caroline Judge
Tile Hill, Coventry
I would like to offer my thanks & appreciation for the very speedy way in which my house was completely rewired last week after a circuit breakdown on Friday 5th October. Russell Appleton the team leader was a 'Star' & organised the job efficiently and created as little mess as possible. He liaised with me at all stages and offered sensible alternatives when things proved difficult. He and his main "Mate" Martin worked together very efficiently; leaving us with power available at the end of each day & a safe environment for the night, Our thanks to call concerned for a job well done & I hope I don't need your services for a long time
Jan Samuel
Tamworth
We were expecting an audit from our Franchising consultant when a couple of issues arose. The light switch to the main chiller and freezer broke off and an electrical socket was accidently broken off the wall. We couldn't see anything in the freezer and to make matters worse we were expecting our delivery. Our usual service companies have a four hour call out to attend a site which was unacceptable in our situation. I remembered having your business card with me so decided to see if you could help. I called your office and explained my situation and within the hour one of your engineers had attended and carried out the necessary work. I have to say I was pleasantly surprised with the speed of the response and very pleased with the service you provided. I have to say I was pleasantly surprised with the speed of the response and very pleased with the service you provided. The business manager was very impressed. I have passed your details to my group of 5 restaurants and have authorised them to use your company for any electrical work required. I have also found out that plumbing is a part of your service and again very useful to know as we don't have a specific company we can call.
Afia - McDonalds Halesowen
Bromsgrove Road, Halesowen
We asked our local electrician in Birmingham Mr Electric to install LED Lights throughout our premises It will be six years next month from when we replaced all our lighting in our Bistro and Shop, along with the warehouse complex here for energy saving alternatives. We have saved every month on our electricity bill It was a large undertaking as you know as we have many units but the amount we have saved every month on our electricity bill over the period has now totally covered the cost of purchasing and replacing the GU10 bulbs with LED spotlights and the florescent tubes with T5'S One of the other benefits we have seen is that we do not have to change the bulbs as often as we were. This is not only an additional saving in the number of bulbs we have to buy, but also the cost of having someone go round changing them  I can count on one hand the number of LED spotlights we have had to change since we fitted them.. Savings paid for the installation in the first three years but since then savings are all ours and simultaneously we have also done our bit for the environment. Thank you for your assistance in fitting
Alison - Bistro Owner
City Centre, Birmingham
The response to our call for help was prompt and the young man stayed with us until problem was solved. Excellent service.
Mr Hart
Rugeley, Cannock
Very good. The engineer was efficient and polite.
Mrs W. Ball
Bilston, Birmingham
Great response from this company quick callous and charged what they said they would no hidden extras, very polite and efficient would use them again a first class job.
Alan Moore
First Class Service from Mr Electric. Matt text half an hour before he arrived so that I could make sure I was home. I had several things needed doing and he did a brilliant job on all of them. The customer services from Mr Electric was brilliant from start to finish. Highly recommended.
Amanda Bourne
I had Mr Electric in to put up all the lights in my new house. Jay was so professional, he arrived at allocated time and did a wonderful job. The service I had from Mr Electric was fantastic. I can not recommend them highly enough!
Gemma Worthington
Fantastic service and I will definitely use Mr Electric again in the future.
Joco Gifts
If you want a professional job at great prices look no further than Mr Electric
IFM Select
Brilliant service. Would definitely recommend Mr Electric.
Steven Sanders
Professional and all round nice guy! Will certainly use again!
Sean Sale
Brilliant customer service !
zach bryan
Very professional company to deal with, the electrician was highly skilled and very friendly. Would recommend
Claire sharratt
Nice review from Steve Roberts at Cargo Marketing. " Brilliant job done thanks to your staff Luke. Will definitely use you again".
Luke Longley
first class company had a lovely chap named russell took less than an hour, would definitely use them again and would highly recommend them.
Sandra Watkinson
Very Happy Customer Dave and Antony were great, both polite and professional. They were both a credit to the Mr Electric company. I will not hesitate to contact Mr Electric in the future, as well as make recommendation to family and friends. Finally, a personal thank you to Mel in teh Mr Electric office, for the prompt assisstance and information given. Another credit to teh company Denise
denise reynolds
First rate professional company, would happily recommend!
Michael Baddeley
Delpreet Shergill
Simon Baker
Just a quick follow up to say how pleased we are with the guys and the work carried out today. The guys, Jared and Scott were courteous and professional, timely and organised. Really good work - I would not hesitate to recommend your services to anyone. Please can you pass on our comments and positive feedback to the guys. Overall, every dealing to date that we've had with Mr Electric from the onset when we had the initial electrical survey done before we had even bought the house, to dealing with the quick turn around of the remedial work quotes through to having the work done- and my endless questions -has been brilliant. Of course, not forgetting the admin side of things backstage - Mel- thank you for answering my endless emails and queries in such a professional and reassuring manner and for Zoe's quick and knowledgeable responses via the phone- everything has been great- spot on. Thank you!
Pamela Hopkins
Arrived alittle later than expected but got the job done. Wore shoe covers throughout so no mess brought into the house and tidied up after himself. Would definitely call them again.
Tanya Bailey
After being told we had an electrical emergency by the guy fitting our new cooker we contacted Mr Electric and had an appointment the next day. I received an email with an approximate time, and a phone call when they were half an hour away. Russell and Katie were professional and friendly. Everything was explained to us and our emergency was far less of a problem than we had been led to believe. Everything was done in an hour with no hidden extra charges or additional problems found. I believe this company are honest, reliable and trustworthy and would definitely recommend them.
Sam Holland
Living in Birmingham there are loads of electricians advertising a 24/7 service. You try and call them a 10pm on a Saturday night though. Only Mr Electric answered the phone and actually came out. Luke solved the problem and gave me advice on how to fix it in should I lose all my lights again. If you are looking for an electrician in Birmingham I can highly recommend Mr Electric.
Diane Mabee
We were extremely pleased with the service, one of the best we have ever used, we had an electrician call Anthony, who could not be more helpful, we couldn't be more pleased, thankyou Mr. Electric.
Brenda Hawes
They did a great job and offered good advice. Clean and on time.
Belinda J
Ethan Storer
Review from Mrs V Attwood, August 2017 - 'Just to say that we are happy with the storage heater the was fitted for us, the two people that came were very friendly and quite quick to do the job. Also they cleaned up after them selves plus hoover up which I thought was brill. We have had Mr Electric for a number of years and can rely on them for how ever big or small the job may be. Very polite work force and presentable.'
Lisa Bennett
Called my insurance company as i had a problem with my electrics poping the fuse box and they sent there emergency electricians out Mr Electrician Must admit that they came out quickly and the electrian was very friendly After testing the ring main they said that the ring main was fine with no faults.(they only had 1 hr to find fault on my insurance policy) As the problem still exists i called another company to fix the problem within 15 mins he found that it is not a ring main and that there was a fault with the circuit (this did not give me great confidence in Mr Electrician)sorry guys
Dave Butler
Thank you for your fabulous service. My lights are spot on, Andy and Katie the young apprentice were excellent.
David Munns
Fantastic Customer Service! It only took 24 hours from my initial phone enquiry to have my new intruder light installed. Head office were very helpful and asked for a photo of my existing light which I emailed and they matched it perfectly. The engineer who carried the job out was really efficient and cheerful. Totally recommend Mr Electric, Birmingham North!
Stuart Plant
My factory had lost power and with all the snow about I thought I had no chance of getting someone out. Matt from Mr Electric came and sorted the problem though top marks. Can not thank them enough
Nick Bradley
Saved my christmas! - As someone who works for a plumbing company I understand how stressful this time of year is, so when we needed an electrician out today (christmas eve) I did not have much hope - Mr Electric truely saved the day. Fixed my issue and made sure everything was tidy before they left. Great company!!
Manorplumbing Chloe
Electrical fault found and rectified in ten minutes water thermostat fault found in less than 5 - very impressed
Colin Gooch
I called another company as I had lost power to my sockets. After an hour they found a fault and informed me I really needed a rewire quoting £4500.00 plus vat. I then called Mr Electric and asked for a rewire quote. Luke asked a few questions and said he can not see why I need a rewire. He then carried out a couple of tests and confirmed my wiring was ok. My board tough showed signs of burn caused by a loose contact and was 12 years old so we changed that. Luke could of easily quoted £4k and rewired my house. Thank you for your honesty and saving me over £4,000
Martin Harley
I have used Mr Electric on numerous occasions both at home and work. We have never been let down by them yet top rate service levels from start to finish.
Jan Scambler
Strangely enough they did as promised answered the phone, called on the way to our appointment, wore overshoes and got the quote back on time. Luke and Stuart carried out the installation of our car chargers even sorting the OLEV funding. Would highly recommend
Stuart Hicks
Early morning electrical problem (no shower or lights) 1 phone call,and the office confirmed early afternoon visit. The electrician(Mark) phoned to confirm he was on his way, he found and fixed the problem in no time First class service (even if a little pricey for a pensioner).
David Troth
I rang Mr Electric as an emergency call. My mother was coming out of hospital that very day and we discovered she had no lights working downstairs in her home. The lady I spoke to was very professional and helpful, she arranged for an electrician to come out that afternoon. A nice young lad named Mark rang me to advise he was on his way and would be with us in 15 minutes. He turned up on time and was able to resolve the issue and offer some good advice. I can't tell you how grateful we were, it was essential to get moms lights on, otherwise she may have had to go back into hospital. Thank you so much. We will definitely use Mr Electric again.
Foster Beverley
Was answered straight away by call centre, but nothing beyond that
Malcolm Dickins
Services
Domestic
Mr. Electric's residential electricians can help with any home electrical need, from rewiring to fuse box upgrades, and are available 24/7 for emergency callouts.
Learn More
Services
Why Mr. Electric?
We work with thousands of businesses and households across the UK who trust us to deliver a reliable electrician service. But what makes us better than other electricians?
Learn More
Ready to Talk Wherever, Whenever
Find your local Mr. Electric®.
Or call 0800 7311 606 today
to speak to an expert about your electrical needs