Air Conditioning Servicing & Summer Cooling with Aire Serv
A few weeks ago the temperatures soared and so did the request for air conditioning servicing, installs and even additional cooling aids. It has cooled down now, but will the hot weather return soon? Now is the time to have your equipment serviced before it gets in this condition [see before & after pictures].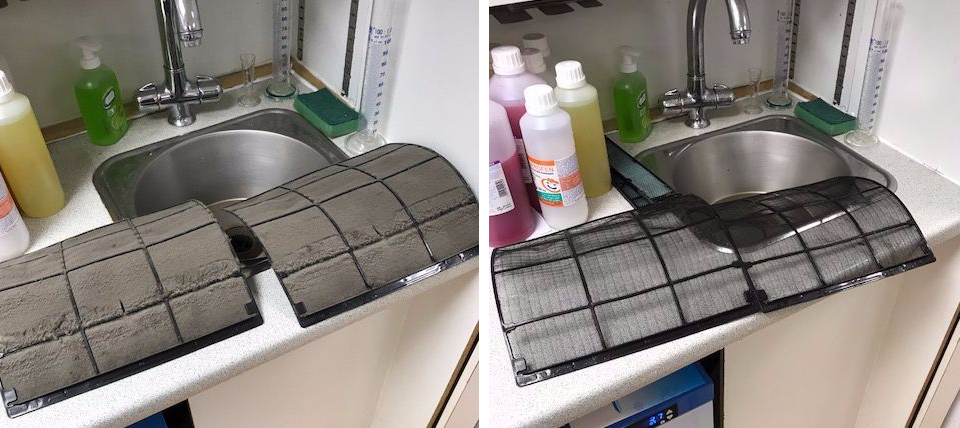 Regular air conditioning servicing both improves the longevity of your AC system and vastly increases performance. Not to mention that if your AC system isn't serviced annually by a registered engineer your warranty is classed as null and void.Our MR ELECTRIC & TEE LTD team work closely with our Air-conditioning & refrigeration colleagues at AIRE SERV and are ready to help. Call us on 01872 553898 or check out our websites for more information.
By maintaining & servicing your air conditioning with Aire Serv, we :
Check for correct amount of refrigerant
Test for refrigerant leaks using a leak detector
Capture any refrigerant that must be evacuated from the system, instead of illegally releasing it to the atmosphere
Check for and seal duct leakage in central systems
Measure airflow through the evaporator coil
Verify the correct electric control sequence and make sure that the heating system and cooling system cannot operate simultaneously
Inspect electric terminals, clean and tighten connections, and apply a non-conductive coating if necessary
Oil motors and check belts for tightness and wear
Check the accuracy of the thermostat.
For further information, see :
https://www.energy.gov/energysaver/maintaining-your-air-conditioner
You may also be interested in…