Your Local Electrician for Plymouth
While it can sometimes be tempting to take on an electrical job yourself, it's only advisable if you have the appropriate knowledge and skills. A qualified electrician will ensure any work is completed safely and to the highest standard, whether it's a routine installation or emergency repair.
Mr. Electric offers customers in Plymouth a full range of domestic and commercial electrician services, from general maintenance and LED lighting to rewiring and electric car charging. All prices are fixed and quoted upfront to prevent any nasty surprises, and we never charge for callouts. Our local presence means we can respond to any electrical emergency promptly and professionally.
We Always Put Customers' Safety First
Above all else, we have a duty to keep our customers safe. For that reason, a free electrical safety inspection is conducted as part of every callout. While we'll never force you into paying for anything, we are obligated to flag any electrical hazards that we encounter during a visit, whether it's loose wiring or an unsafe plug socket. We are always honest and upfront with our advice, giving you the information you need to make the right decision.
From lighting installations to fuse box upgrades, our electricians will keep you updated throughout any job, and all work is covered by our 12-month guarantee, ensuring you don't have to pay for any adjustments at a later date. We only ever charge for the work itself – quotes and surveys are free – and if any additional work is required on top of what was initially quoted, we'll always inform you and provide a quote first.
All of our electricians are fully qualified, thoroughly vetted and DBS-checked. They will always arrive in a clearly marked vehicle, wearing full uniform and carrying official identification. To ensure minimal disruption to your home or business, every member of the team carries shoe protectors and special floor covers, and they always take great care to leave the premises exactly as they found it when they arrived. We are committed to developing our staff and assessing them on a regular basis to ensure their knowledge is up to date.
Customers in Plymouth choose us for our reliable service and round-the-clock support. So, if you need a hand with your electricals, give us a call today.
We had a problem with the wiring in our house. I called these guys and Wayne came round, fixed the problem (it was a fuse) and didn't overcharge us. What I did find interesting was the guy arrived and put a Mr Electric carpet down first to put his tool box on - never seen that before!
Robin Banks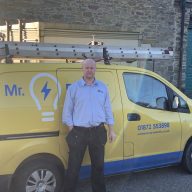 Wayne Walker
Electrician for Plymouth & Devon
Wayne is our Plymouth electrician, he has worked in the electrical sector for 20 years and has a substantial background in electronics. He enjoys spending time with his large family and likes going for meals and the cinema with his wife.
The Latest from Plymouth & South Devon
Keep an eye on our blog for the latest news and electrical advice from Mr. Electric.
Supporting Our Communities
As we continue to work together to fight the Covid-19 outbreak, we would like to reassure our customers that we are taking all the necessary precautions to ensure the safety and well-being of our customers, staff and business owners.