EVC NEWS: WORKPLACE SCHEME & OLEV GRANT.
CASE STUDY: MBA TRURO
The business benefits of electric vehicle charging points in the workplace
A Local leading company in civil & structural engineering has joined the green revolution with the addition of two electric vehicle charging points at its Truro-based offices.
Thanks to a Government grant scheme, accessible through Mr Electric, MBA Consulting was able to secure £1,000 (almost 50%) towards the cost of the electric vehicle charging point installation.
For over 20 years MBA have provided innovative and sustainable Civil Engineering design solutions for our Client's infrastructure projects.
They have also provided Structural Engineering services throughout the South West since 1990 and their expertise covers all major forms of construction and many different building forms.
The work was carried out over two days during which Mr Electric installed two EO 7.2kw Electric Vehicle chargers. Each charger has its own key and can therefore only be used by company employees.
OLEV funding for electric vehicle charging points
As well as qualifying for the grant from the Office of Low Emission Vehicles, the installation brought with it a number of benefits for the business.
Other benefits include:
Reduced employee costs. As HMRC BIK income tax rules are based on the cars' CO2 level and value, converting to hybrid & Full Electric vehicles provides a considerable saving to employees who drive the hybrid/full electric company cars.
Reduced business costs. On average the cost of electricity for the company's plug-in hybrid cars versus fuel is reduced by 50-60% (based on its estimates for the electrical miles used). For pure electric vehicles with a range of 100+ miles, this can be as much as 80% lower. Although MBA doesn't have any pure electric vehicles at present, this could be a consideration in the future if the electrical range is sufficient.
Savings on National Insurance. MBA also makes a saving on the Class 1A fleet costs as this is based on the BIK amount. Employers pay Class 1A National Insurance Contributions on company cars and fuel at 13.8%. As with company car tax, this amount is directly linked to the P11D value and the CO2 emission figure of a vehicle.
Great service on car charger installation in Truro
"Mr Electric do everything for you, from advising on charger options, to explaining the Government grant system, to the installation & testing at the end and issuing all relevant certification."
The two-day installation involved laying over 60 metres of cabling for a new dedicated fuse board, upgrading the existing installation, earthing the charge-points and also allowing capacity for additional chargers if required in future.
The new points were then charged and tested before the job was signed off.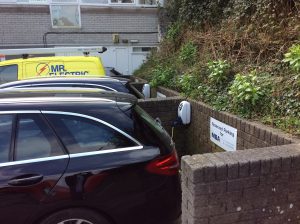 To find out more about the benefits of electric vehicle chargers at your business or home,
give Mr. Electric a call.
You may also be interested in…