LATEST EV NEWS FROM CORNWALL – GOVERNMENT ANNOUNCE NEW EV BIK TAX RATES
New Tax Rules Will Create an Upsurge in Company Electric Vehicles in Cornwall.
Make Sure You Gain These Customers by Having Electric Car Chargers Installed!
Vehicle CO2 emissions
BiK rate
(Electric, Petrol, RDE2 Diesel)

2019-20
2020-21
2021-22
2022-23
0 g/km
16%
0%
1%
2%
1-50 g/km (electric range >130 miles)
16%
2%
2%
2%
1-50 g/km (electric range 70-129 miles)
16%
5%
5%
5%
1-50 g/km (electric range 40-69 miles)
16%
8%
8%
8%
1-50 g/km (electric range 30-39 miles)
16%
12%
12%
12%
1-50 g/km (electric range <30 miles)
16%
14%
14%
14%
51-54 g/km
19%
15%
15%
15%
55-59 g/km
19%
16%
16%
16%
60-64 g/km
19%
17%
17%
17%
65-69 g/km
19%
18%
18%
18%
70-74 g/km
19%
19%
19%
19%
75 g/km
19%
20%
20%
20%
76-79 g/km
22%
20%
20%
20%
80-84 g/km
22%
21%
21%
21%
85-89 g/km
22%
22%
22%
22%
90-94 g/km
22%
23%
23%
23%
95-99 g/km
23%
24%
24%
24%
100-104 g/km
24%
25%
25%
25%
105-109 g/km
25%
26%
26%
26%
110-114 g/km
26%
27%
27%
27%
115-119 g/km
27%
28%
28%
28%
120-124 g/km
28%
29%
29%
29%
125-129 g/km
29%
30%
30%
30%
130-134 g/km
30%
31%
31%
31%
135-139 g/km
31%
32%
32%
32%
140-144 g/km
32%
33%
33%
33%
145-149 g/km
33%
34%
34%
34%
150-154 g/km
34%
35%
35%
35%
155-159 g/km
35%
36%
36%
36%
160-164 g/km
36%
37%
37%
37%
>165
37%
37%
37%
37%
Note: you should add 4% up to a maximum of 37% for diesel cars that are not certified to the Real Driving Emissions 2 (RDE2) standard.
Most destination businesses appreciate that they will need to have electric vehicle charge points installed at their premises at some point, and many are probably waiting for what they feel is the right time.
While the 'right time' may involve considerations around cost, value for money and the level of technology, it's also about getting ahead of the game and taking advantage of the extra customers you'll win from being one of the first charge point locations, before everyone else gets on board.
But now is the right time, as we need to encourage more visitors and also keep those existing ones that visit Cornwall every year coming!
Here at Mr Electric, we've experienced a record year in electric vehicle charge point installations, and in recent weeks we have been busy preparing quotes for lots of destination businesses, and in particular, hotels, guest houses and B&B's.
Electric vehicle charge points for company car drivers:
The Government recently announced that company car drivers choosing pure electric vehicles will pay no benefit-in-kind (BIK) tax at all for 2020/2021 – news which is likely to accelerate electric company car use even more.
This news, along with the other almost daily developments that will increase uptake of electric vehicles, means those hotels, restaurants, conference centres and destination businesses which take the plunge now, can expect to reap the rewards.
It means even more people will soon be looking for electric vehicle charge points when deciding where to eat, where to stay and where to visit.
The BIK announcement is expected to increase the number of businesses which make the switch to electric vehicles for their fleets, so anyone travelling for business or pleasure will also be looking for hotels and restaurants with charging facilities.
It won't be long before all hotels, B&Bs and guest houses have charging facilities, so now is the time to stand out and win new customers who are searching for accommodation, based purely on whether they have electric charge facilities. (A bit like those who had WIFI all those years ago before it became the norm!)
Benefits of electric vehicle charge points at your business in Cornwall:
Other benefits of installing an electric vehicle charger at your hotel or destination business, include:
Get your business on the map. Currently all charge points are plotted on a nationwide map, so you'll find it easy to pick up new customers
Cost effective. Standard 7.2kw chargers are very affordable and perfect for places like hotels where people can charge their cars overnight. If you don't have people staying overnight, these are still perfectly adequate for the top-up charge drivers will be looking for on their journey.
Grant funding. This is currently available for workplace chargers, which can bring the cost of installation down and make it an even more attractive proposition. As Government-approved installers, we can source those grants for you.
Leasing electric vehicle chargers. In addition to grants, it is now also possible to lease chargers and get a commission on the resale of electricity, so you can generate revenue with zero capital cost.
Corporate social responsibility. There's also the boost to your business and its green credentials, which is great for the environment and for your public image. Environmental impact is becoming an increasingly important factor for consumers choosing providers of goods and services.
To find out more about the benefits of electric vehicle chargers at your home or business, including quotes and grant information, contact our expert advisors at Mr Electric.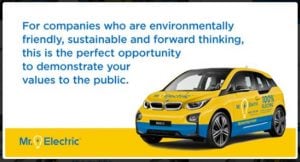 You may also be interested in…