PRS – APRIL 1ST IS NEARLY HERE AND THE £30,000 FINE FACING LANDLORDS IS NO JOKE!
MANDATORY FIVE-YEAR ELECTRICAL SAFETY CHECK REGULATIONS TO BE ENFORCED IN ENGLAND:
You may or may not be aware that the legislation concerning the requirement for rented properties to have a satisfactory electrical installation condition report (EICR) has recently changed.    This means that any new tenancies that are granted require one of these immediately before the property is able to be let/re-let.  Any existing tenancies must have a satisfactory certificate in place by 1st April 2021.
This means that YOU (The Landlord) will need to have one carried out at your property prior to April 1st 2021, which is fast approaching. 
The cost of an inspection itself varies from around £120-£250 (plus VAT where applicable) depending on the number of circuits within the property. Any remedial works that may be required will then be quoted for.  In some cases these remedial works can be quite costly depending on what is required, so please bear this in mind.
This needs to be carried out by an approved electrician and once the EICR is carried out, there is a chance that the property could be deemed unsatisfactory and if this is the case the required remedial works will have to be carried out and this must be done within 28 days of the original inspection being done.
Mr. Electric is an NICEIC Approved Contractor, but there are also other schemes ( NAPIT, STROMA, ELECSA) out there.
You can search with the link below to find people who are approved in the local area to carry out the EICR.
https://www.electricalcompetentperson.co.uk/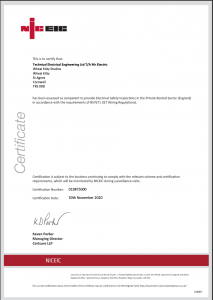 As of June 1st 2020 when the legislation came into effect, our data was transferred to the Registered Competent Person Electrical register to be listed as a company competent to undertake Inspection Reports in the Private Rented Sector. 
This update to the Competent Persons Electrical register responds to legislation which came into force on 1 July 2020; under which new ruling private landlords will be required to ensure their properties are subjected to mandatory electrical testing at least every five years.  For more details, please visit the NICEIC website Here
If you have any questions, needs an EICR carrying out or we can be of any further assistance, please do hesitate to contact us.
You may also be interested in…