USB Adapters
Hurry! If you have a USB wall socket fitted before 30th June 2017, you will only have to pay £50 for the socket and installation!
Grab this offer before 30th June to not miss out!
So many devices are now charged via USB cables, and this can be a pain when a socket adapter is not included, or goes missing! Mr. Electric Ipswich can make this tiresome problem disappear by installing wall sockets already loaded with USB ports!
Let Mr. Electric Ipswich upgrade your wall sockets so that your devices can charge without the need of a USB adapter or computer. These are a customer favourite as they are more convenient than the traditional adapter, and they also help with keeping clutter to a minimum as you can get rid of those now unnecessary adapters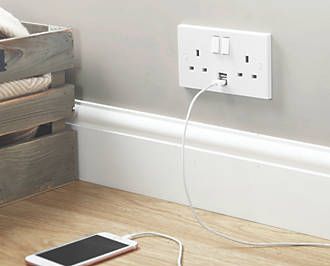 When you have a USB wall socket fitted with Mr. Electric, we will be providing you with top quality. The sockets themselves use a standard 13A 2-Gang plug, so will be easy to retrofit to your wall. This means we can switch out your old sockets, no mess, no extra holes in your wall!
The socket comes with two USB ports, all being fire retardant and meeting current regulations. Upgrade your wall fittings with these classic design USB ported sockets and save yourself the hassle of those pesky wall adapters! and now available with a shelf !
Need more than one socket? For every additional socket we fit, we'll only charge an extra £25 each!
Mr. Electric Ipswich can help you choose the right products and help you install them.
Want to lose the USB adapters? Call us now!
01473356444
You may also be interested in…