Covering East Suffolk
24/7, 365 Days a Year
No Callout Charges
Services
Domestic
Our residential electricians can provide solutions to all of your home electrical needs, whether it's lighting upgrades, rewiring or emergency repairs.
Learn More
Services
Commercial
We work closely with East Suffolk-based businesses that require a reliable commercial electrician for emergency callouts and other electrical services, including testing and maintenance.
Learn More
Why Businesses Choose Mr. Electric East Suffolk
The last thing any business wants is an interruption to its electrical service. At Mr. Electric, we take the time to understand the unique needs of every business and provide tailored solutions. Our electricians are on call 24/7 and usually respond to emergencies within 45 minutes.
Learn More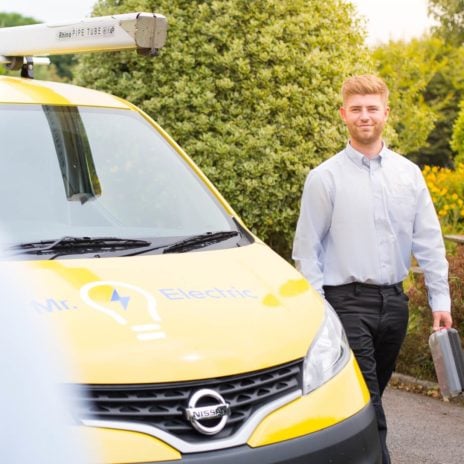 Fixed Pricing
No Callout Charges
Free Quotes
Covering East Suffolk
Fast Response
Highly Trained
Meet Your Local Mr. Electric Team
When you call us, you'll have the comfort of knowing that you're speaking to someone who knows the local area. We also vet our electricians as part of the recruitment process, which means you can trust them to deliver an honest, professional service.
Call 01473 877179 today.
Meet the Team
What our customers say
Clear Quotation, Fair Price , all work completed to a good standard in a friendly professional manner
Peter Price
Old Felixstowe, Felixstowe
Very Good service, excellent
Michele Phillips
Woodbridge
Richard and Alex (East Anglia) were super helpful in the process leading up to the work, helping plan what we needed and how we could work around some of the unusual materials we're using in our renovation. During the job they were tidy and friendly. We will definitely be using them again.
Jamie Boyd
Thorpe Moriuex, Bury St. Edmunds
I just wanted to pass on the thanks of a very good friend of mine, Shaun Edwards, for the works recently completed at their property in Bonehill. After my recommendation, Shaun called Mr Electric to arrange for installation of a programmer for their central heating at home. He was dealt with a very professional and extremely efficient manner and an appointment was made for the following day. The following day the engineer arrived promptly and carried out the works in an extremely professional manner and quickly. Shaun wanted me to pass on his thanks and to say that he would not hesitate to recommend Mr Electric to anyone.
Paul Stanford
Very efficient
Linda Rogers
Great cornstd, Great Cornard
Very polite and professional
Mr R French
Suburbs, Saxmundham
quick, good value, reliable
Rob
Wivenhoe
Excellent
Michael Rogers
Outside sudbury, Sudbury
Call these guys with confidence. On time, efficient and a very fair price.
Jon Chrimes
Ipswich, Ipswich
The Latest from East Suffolk
What's been happening at Mr. Electric East Suffolk? Keep up to date with the latest news and check out our expert tips.