Covering East Suffolk
24/7, 365 Days a Year
No Callout Charges
Services
Domestic
Our residential electricians can provide solutions to all of your home electrical needs, whether it's lighting upgrades, rewiring or emergency repairs.
Learn More
Services
Commercial
We work closely with East Suffolk-based businesses that require a reliable commercial electrician for emergency callouts and other electrical services, including testing and maintenance.
Learn More
Why Businesses Choose Mr. Electric East Suffolk
The last thing any business wants is an interruption to its electrical service. At Mr. Electric, we take the time to understand the unique needs of every business and provide tailored solutions. Our electricians are on call 24/7 and usually respond to emergencies within 45 minutes.
Learn More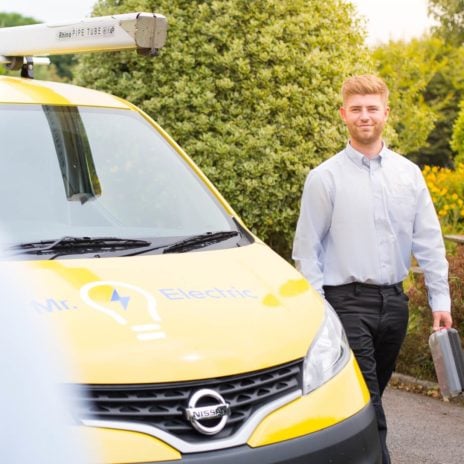 Fixed Pricing
No Callout Charges
Free Quotes
Covering East Suffolk
Fast Response
Highly Trained
Meet Your Local Mr. Electric Team
When you call us, you'll have the comfort of knowing that you're speaking to someone who knows the local area. We also vet our electricians as part of the recruitment process, which means you can trust them to deliver an honest, professional service.
Call 01473 877179 today.
Meet the Team
What our customers say
Quick, friendly, expert.
Peter Thompson
Ipswich
Very good service
M Norman
East, Ipswich
We have a long term project, Richard and Steve have been very good helping out.
Jamie Boyd
In the sticks, Bury St. Edmunds
Great service
Christopher Phillips
Snape, Saxmundham
Alex and Richard from the East Anglia Mr. Electric have done another sterling job.  We've had them round on a few occasions now and been very happy every time.
Jamie Boyd
Thorpe Morieux, Bury St. Edmunds
We've just had Alex from the East Anglia Mr. Electric for two days to helping us out with are continuing renovation project.  As every he did an amazing job, Alex and Richard is always very good at answering questions and quoting for the next bit of work.
Jamie Boyd
Bury St. Edmunds
Excellent.  Texted to confirm appointment and arrived punctually, very polite and conducted a thorough check.
Ms. B. Wade
Ipswich
Running an amazing company.
Mick Phillips
Wickham Market, Wickham Market
Extremely professional and reasonably priced. Richard (Mr. Electric) gave a very quick and comprehensive quote and he and Alex did a first class job.
Mrs Sue Searby
Outskirts, Woodbridge
The Latest from East Suffolk
What's been happening at Mr. Electric East Suffolk? Keep up to date with the latest news and check out our expert tips.