Covering East Suffolk
24/7, 365 Days a Year
No Callout Charges
Services
Domestic
Our residential electricians can provide solutions to all of your home electrical needs, whether it's lighting upgrades, rewiring or emergency repairs.
Learn More
Services
Commercial
We work closely with East Suffolk-based businesses that require a reliable commercial electrician for emergency callouts and other electrical services, including testing and maintenance.
Learn More
Why Businesses Choose Mr. Electric East Suffolk
The last thing any business wants is an interruption to its electrical service. At Mr. Electric, we take the time to understand the unique needs of every business and provide tailored solutions. Our electricians are on call 24/7 and usually respond to emergencies within 45 minutes.
Learn More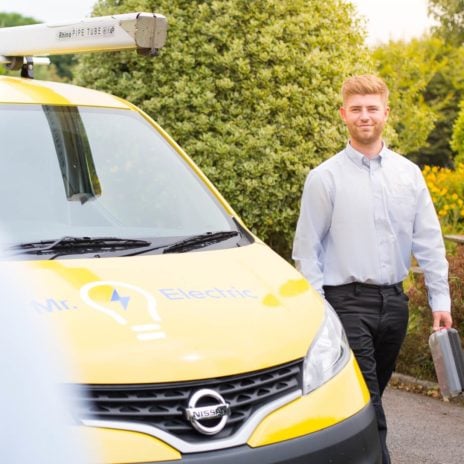 Fixed Pricing
No Callout Charges
Free Quotes
Covering East Suffolk
Fast Response
Highly Trained
Meet Your Local Mr. Electric Team
When you call us, you'll have the comfort of knowing that you're speaking to someone who knows the local area. We also vet our electricians as part of the recruitment process, which means you can trust them to deliver an honest, professional service.
Call 01473 365149 today.
Meet the Team
What our customers say
Excellent customer service all round.
Neal Scarff
Ipswich
Great job, very professional price as quoted would highly recommend.
David Kessel
Burrel Road, Ipswich
Great service, ok time, friendly, super helpful, would recommend.
April-Josephine Broadberry
Ipswich
Very helpful in setting up the test and PAT tests.  Very good explanation of result and of one corrective action.
John Pugh
Chelmondiston
I was truly impressed.... Before work commenced, we discussed each portion of the job to ensure I was happy and also, that current safety guidelines were adhered to.  The first-fix work was carried out efficiently, professionally and they cleaned all residue before leaving.  I would definitely recommend this team for prompt, efficient and professional electrical services!
Jane C. Connery
Bury St. Edmunds
Second time using Mr. Electric and once again couldn't be happier.  Professional and friendly service and so happy with the end result.  Will 100% use again.
Simon Jacobs
Bury St. Edmunds
Really pleased Richard could come out and help me and that the issue was fixed quickly, good advice given for saving electric too.  Friendly service.
Christina Harrald
Town Centre, Ipswich
Very good service, friendly and took the time to explain everything that was being done.  Couldn't have asked for better service with a great job done.
Oliver Southgate
Kitchener Road, Ipswich
Have used Mr. Electric before for installing spotlights and contacted them again to install my Nest doorbell and thermostat.  Both times they have been fantastic and I have to say that Steven is an absolute star!  He works very neatly and he treats your home as if its his own.  Everything looks clean, tidy and very well done.  Will be back for more!
Marc Sussenbach
Beck Row
The Latest from East Suffolk
What's been happening at Mr. Electric East Suffolk? Keep up to date with the latest news and check out our expert tips.
Supporting Our Communities
As we continue to work together to fight the Covid-19 outbreak, we would like to reassure our customers that we are taking all the necessary precautions to ensure the safety and well-being of our customers, staff and business owners.