Mr. Electric helps DPD roll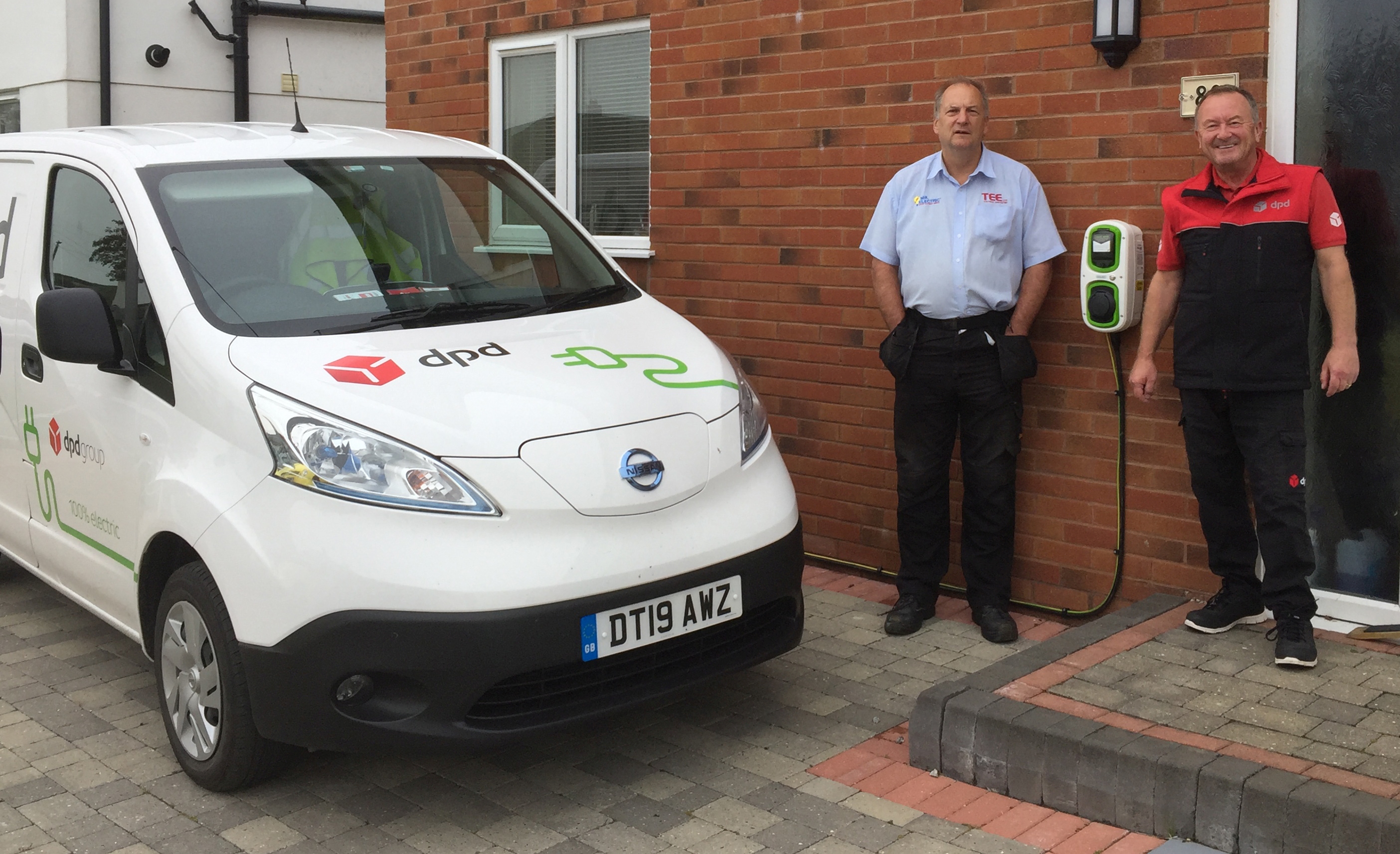 Mr. Electric recently assisted UK parcel delivery company DPD with the roll out of its fleet of electric vehicle (EV) delivery vans in Cornwall by providing a one-stop EV charging solution for two of its delivery drivers.
From Newquay down to St Austell, the two DPD drivers, Nick Lott and Simon Penter, recently made the switch from diesel to a 100% electric van so they could reduce their fuel and running costs, whilst making their business more sustainable and efficient.
Equipped with their new Nissan e-NV200 small vans, the drivers needed an affordable and user-friendly EV charging point installed at their homes in Cornwall to enable them to fulfil their daily deliveries from a single charge.  Another key functionality was having a fast home charger which would charge their EV vans whilst they slept.
Tasked with finding an accredited EV installer, Nick Lott got in touch with three local electrical businesses who could advise and install home charge points.  Mr. Electric was one of the firms who was approached and consequently won the work due to its exceptional professionalism and customer service from start to finish.  Following Nick's recommendation, DPD colleague, Simon Penter, also employed Mr. Electric and was equally pleased with the service he received.
"I was so impressed with Mr. Electric from the outset and have already referred the business to both colleagues and friends, which is testament to the work they carried out for me", added DPD driver Nick Lott. "The team provided a quality service, from the initial site survey to understanding my requirements and then the installation at home, and they continue to show their high levels of knowledge and expertise in the EV market.
"I have become more environmentally and economically minded with my new EV van and even taken advantage of a new off-peak electricity tariff to help reduce the costs even further.  Being able to charge my van easily and quickly at home is also essential for my business and I am hugely grateful to Mr. Electric for making this possible."
Steve Barlow, Director of Mr. Electric Cornwall strongly believes we have a corporate social responsibility towards the environment to be zero-emissions by 2050 and fully supports the growing demand for sustainable green transport technology.  He says: "We have seen an increase in demand for EV charging points in Cornwall over the past six months, with our sales having doubled and enquiries quadrupled.  It is great to see that many more consumers and businesses are embracing these emerging technologies and are looking for new ways to reduce rising fuel bills and reduce their carbon footprint.  As expert electrical installers, our network of electricians are ready to support those wanting to realise the opportunities in EV charging."
Mr. Electric is now working with both drivers to apply for a grant under the Office for Low Emissions (OLEV) Electric Vehicle Homecharge Scheme, where they can receive up to £500 off the cost of purchasing and installing their home charging point.
Mr. Electric is an authorised OLEV accredited installer of electric vehicle charging points with a network franchised electrical businesses who install and manage electrical vehicle car charging points for homes, workplaces and public areas throughout the UK.   It is an approved installer and trusted partner for EO Charging and Rolec, both of which have a comprehensive product range designed and built to be flexible and compatible with all leading motor manufacturers' EVs.
To find out more about Mr. Electric Cornwall and the services it offers, call 01872 553898.
For more information, contact:  Georgina Watkins, Neighbourly.  Tel: 01295 983395 / Email: [email protected]
You may also be interested in…