4 Simple Light-Up Wedding Decoration Ideas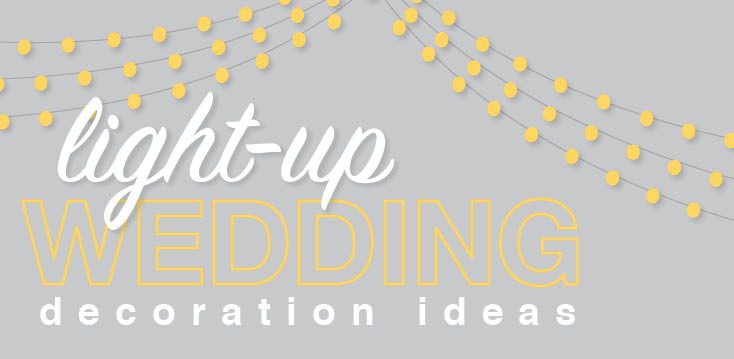 Proper lighting can transform your wedding space from simple to spectacular in the blink of an eye. It's your wedding day so why not put your marriage in the spotlight. Here are a few illuminating ideas for inspiration on how you can light up your special day:
Mr. & Mrs. Marquee
Decorate your reception with a bulb marquee. Use the bride and groom's initials or an entire phrase that will greet the guests as they enter the party!
Canopy of Lights
For an indoor or outdoor wedding, stringing a canopy of lights over your guests will create a magical atmosphere. Globe lights are a great choice to set the mood.
Mini Tree Lights
Use mini lights to wrap around outdoor trees for a decoration to remember! Start wrapping at the bottom of the tree, working your way up the trunk and eventually splitting off to the branches. Not all branches need to be wrapped, but whatever is lit should be wrapped tightly and evenly spaced for a clean look.
LED Fairy Light Jar
It's amazing what you can do with a strand of white firefly (fairy) lights, a mason jar and a little do-it-yourself energy. Bunch each strand into a glass jar to create a unique centerpiece at each table. These battery-operated lights are easily movable and can be crafted however you like.
For more reading on how to choose proper lighting click here.
If you're just looking to brighten up your home or need some creative ideas for accenting your landscaping, let the experts at Mr. Electric help you. The electricians can help you put the finishing lighting touches on your home or business.
You may also be interested in…