Mr. Electric and Plug-N-Go collaborate to provide full turnkey funded solution for electric vehicle charging nationwide
Banbury, UK (26 February 2019) – A new collaboration to provide a full turnkey funded solution for electric vehicle (EV) charging across the UK has been announced between Mr. Electric®, the UK's leading electrical franchise brand, and Plug-N-Go, a market leading solution for funded EV Charging Systems.
Together, the two organisations offer a fully integrated EV charging solution, which is risk and cost free, across public and private accessed sites, and will include everything from supplying, installing, maintaining and the management of charge points throughout the contract term.
Authorised Office for Low Emission Vehicles (OLEV) installers of EV charging points, Mr. Electric and Plug-N-Go will work with a number of leading EV equipment service providers, who Mr. Electric already work with, to install easy to use chargers operated on an 'open charging' model, enabling people to use them on a pay-as-you-go basis.
Mr. Electric's network of franchised NICEIC approved electrical experts will carry out the installation and management of the charging points. Plug-N-Go will do the maintenance and provide a single contract for all its infrastructure through the contract.
Midlands based Buzzards Valley Vineyard & Bistro, a commercial centre with four different businesses, including fishing lakes, a restaurant, shop and artisan market, recently installed the two Plug-N-Go fully funded, EV charge points in its car park for customers to use.
Yvonne Viggers, co-owner of Buzzards Valley, said: "It made total business and environmental sense for us to provide an electric vehicle (EV) solution for our customers, particularly when we knew we were eligible for a Government grant to pay the cost of the installation.   It is a win-win for both us and our customers as it doesn't cost either of us a penny.  We very much see this as a long term investment for the growth of our business and believe that every public car park should offer similar EV facilities, particularly if we are to see mass adoption on our roads in the future."
Pierre Jeannes, VP of Operations for Mr. Electric, said: "With such strong environmental credentials, full electric and plug-in hybrid cars are now growing in popularity with many more people now purchasing them as we see an increase in both performance and range.  Our collaboration with Plug-N-Go will now enable us to provide a cost-effective, high quality and reliable EV charging solution for consumers and businesses, and together, we have the expertise to help provide the technical products, skills and manpower to install EV charging points across the UK."
Keith Hounsell, Founder and Chief Executive Officer of Plug-N-Go, added: "We believe that charging an electric vehicle should be quick and easy.  By building a national network of EV charge points, we can help our customers to improve their business' sustainability and public reputation. We recognise the financial restrictions that local authorities and businesses are facing when trying to meet customer needs, so by teaming up with Mr. Electric, we now have an accredited network of electricians located nationally who can help us to make EV charging as seamless and accessible as possible."
Dominic Longley, Manager of Mr. Electric Birmingham North, said: "Already we have seen a record number of EV charging installations since the start of the year, as many more customers are making the switch to electric.  Buzzards Valley is a great example of how a business is supporting the growing need for sustainable green transport and providing a cost-effective solution for its customers.  People want EV peace of mind and to know that when they arrive at their chosen location they will be able to charge their vehicle.  Electric vehicles need charging points and this where we can help by working closely with Plug-N-Go to provide comprehensive EV solutions."
For further information about Mr. Electric and the services it offers, visit www.mr-electric.co.uk or call 0800 7311 606.
ENDS
For more information, contact:  Georgina Watkins, Neighbourly. Tel: 01295 983395 / Email: [email protected]
About Neighborly:
Neighborly is a holding company of 21 service brands throughout North America, U.K. and Europe, focused on repairing, maintaining and enhancing consumers' homes and businesses. The company operates online platforms that connect consumers to service providers in their local communities that meet their rigorous standards as a franchisor across 14 service categories at www.getneighborly.com in the United States and www.getneighbourly.ca in Canada. The company was founded in 1981 as Dwyer Group and is based in Waco, Texas. More information about Neighborly, and its franchise concepts, is available at www.NeighborlyBrands.com.
About Plug-N-Go:
Plug-N-Go being a end to end funded electric vehicle charge point operator working mainly in the slow to fast charging space, we specialise in working along side the client from day 1 to ensure a smooth, future proofed solution, allowing a charging for all strategy, whether a single solution like Buzzards Valley through to a Local Authority with a diverse car park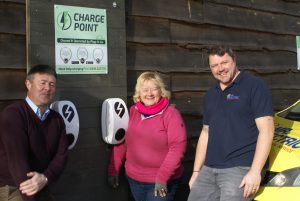 You may also be interested in…