Electrician Advice Moving Home
Moving Home Advice from Mr Electric Birmingham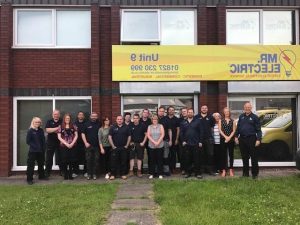 Moving house provides the perfect opportunity to give your new home a modern makeover. CALL NOW 0121 5147513
Moving home is a time to consider installing Home Automation, Car Charger Points, Rewiring before decorating. EICR Testing. It is the perfect time to consider whether your home needs a modern makeover. You can be safe with Mr Electric as we are fully qualified NICEIC approved electricians.
Whether you're revamping your current home in order to sell, or you've bought a new house and you want to create a dream home that is fit for the future, there are many advances in technology to consider that will make your home smarter, warmer and more secure.
Digital technology has become an increasingly integral part of our day-to-day lives and many people now expect the home to meet our modern requirements.
There are now endless amazing new features to take advantage of, such as home controls, energy efficient lighting, mood lighting, outdoor lighting, USB sockets and even electrically-heated wall paint – which means improving your home is now much more than just a lick of paint.
The difficulty can often be in knowing where to start and that's where Mr Electric comes in. If you want a revamp, but you're not sure what's available, Mr Electric's team of qualified electricians can give you some ideas, designs and quotes, free of charge.
All our electricians keep up to date with the latest and most cutting-edge innovations and can help you decide what you need to make your home work best for you.
Moving house is a great time to be thinking about a modern makeover and it makes sense to get any new electrics installed before you start painting and decorating.
Here are some of the features you might want to consider when creating a home fit for the 21st century homeowner.
USB sockets
Modern sockets now come with built in USB sockets as well as plug sockets and are ideal for providing multiple charging points for portable devices such as smartphones and tablets, directly from the mains.
Lighting
No matter what your custom lighting needs are, Mr Electric can help you visualise and execute your vision to optimum impact. As well as creating the perfect ambient mood lighting for every occasion, modern lighting solutions are also much more energy efficient and can even be wirelessly controlled, including dimmers for indoor and outdoor lighting.
Home automation
Home automation technologies are constantly evolving and there are now products which enable you to control pretty much all your heating and electrics through apps which can be accessed wirelessly from wherever you are. This includes heating, lighting, timers, locks and security systems.
Security
Home security is an important consideration for many families. Modern systems enable you to remotely view the security cameras around your home.
Heating
There are now more efficient methods for heating the home than ever before, whether that's through the use of smart meters for your radiators, underfloor heating or even heated wall paint. JouleTherm CeP, for example, can turn any plastered wall or ceiling into an energy efficient radiator, without the need for radiators or any other heating system.
For more information, a free design consultation or quote for your modern makeover contact Mr Electric Birmingham North.
VISIT Mr ELECTRIC MAIN SITE
7 great reasons why more people every day choose Mr. Electric
Fixed Pricing
No Call out Fees
Free Quotes
Fast Response
Highly Trained Staff
Install Repair Maintenance
Work Guaranteed
You may also be interested in…