Our Customers Come First
At Mr. Electric, we pride ourselves on providing exceptional service to every customer. From being available 24/7 for any electrical emergency to always taking good care of a customer's property, we go the extra mile to ensure homeowners and businesses are happy with their Mr. Electric experience. But don't just take our word for it. Take a look at our latest customer reviews below.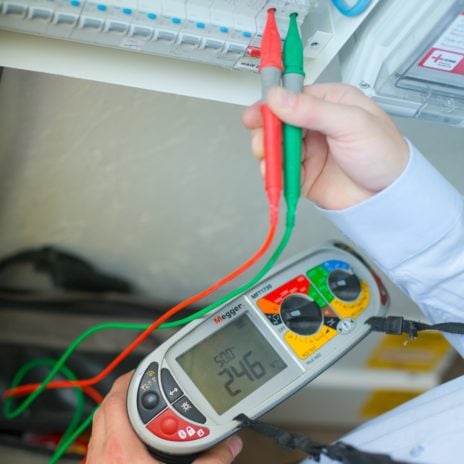 McDonalds Halesowen can depend on Mr Electric
We were expecting an audit from our Franchising consultant when a couple of issues arose. The light switch to the main chiller and freezer broke off and an electrical socket was accidently broken off the wall. We couldn't see anything in the freezer and to make matters worse we were expecting our delivery. Our usual service companies have a four hour call out to attend a site which was unacceptable in our situation. I remembered having your business card with me so decided to see if you could help. I called your office and explained my situation and within the hour one of your engineers had attended and carried out the necessary work. I have to say I was pleasantly surprised with the speed of the response and very pleased with the service you provided. I have to say I was pleasantly surprised with the speed of the response and very pleased with the service you provided. The business manager was very impressed. I have passed your details to my group of 5 restaurants and have authorised them to use your company for any electrical work required. I have also found out that plumbing is a part of your service and again very useful to know as we don't have a specific company we can call.
Afia - McDonalds Halesowen
Bromsgrove Road, Halesowen

Uji Turmudzy

Rob Maher

Kind and Considerate
Being both old, and my wife very disabled, we were not looking forward to the disruption in our home, but your kind and considerate men made it easy for us and we thank them for that.
Mr R Dennis
St Agnes

Thank You
This work came about because of a chance discussion with your electrical engineer who was called out to mend a faulty light switch. I was quite satisfied with the extra work carried out, thank you.
Mrs S Heselltine
Plymouth

Very Impressed
Very impressed with the work as it was not as simple as had been anticipated, but they stayed until it was finished.
Mr & Mrs Brooking
Redruth

We have saved every month on our electricity bill!
We asked our local electrician in Birmingham Mr Electric to install LED Lights throughout our premises It will be six years next month from when we replaced all our lighting in our Bistro and Shop, along with the warehouse complex here for energy saving alternatives. We have saved every month on our electricity bill It was a large undertaking as you know as we have many units but the amount we have saved every month on our electricity bill over the period has now totally covered the cost of purchasing and replacing the GU10 bulbs with LED spotlights and the florescent tubes with T5'S One of the other benefits we have seen is that we do not have to change the bulbs as often as we were. This is not only an additional saving in the number of bulbs we have to buy, but also the cost of having someone go round changing them  I can count on one hand the number of LED spotlights we have had to change since we fitted them.. Savings paid for the installation in the first three years but since then savings are all ours and simultaneously we have also done our bit for the environment. Thank you for your assistance in fitting
Alison - Bistro Owner
City Centre, Birmingham

Sarah Claxton

Fast response and excellent service
The response to our call for help was prompt and the young man stayed with us until problem was solved. Excellent service.
Mr Hart
Rugeley, Cannock

Emma Bennett